We are looking for an apprentice to join us
Open the door to a new career with an apprenticeship at Basingstoke and Deane Borough Council
An apprenticeship with Basingstoke and Deane Borough Council is a great way to get your career off the ground. You will gain valuable on-the-job experience while continuing to learn, gaining a qualification and earning at the same time.
You can look forward to an excellent range of benefits including our online benefits platform, generous leave entitlement, healthcare cash plan and pension scheme.
Every single employee at Basingstoke and Deane Borough Council makes a difference and we are proud to say we go beyond for them as an employer, so they go beyond for our residents to deliver excellent services.
Benefits Apprentice
Getting paid while you learn might sound too good to be true, but as an apprentice you really do get the best of both worlds. We have an exciting opportunity for an apprentice to join our Benefits Team, you will be involved in a wide range of activities aimed at providing an excellent service to our residents.
At Basingstoke and Deane Borough Council we're big on innovation. To achieve this we want people with big ideas about how we could do things differently for the better and who aren't afraid to voice them.
You will help the team to deliver high quality administrative and technical services to both internal and external customers in a positive, proactive, courteous and impartial way. You will help to build and maintain information databases, deal with overpayments, and support the process of making discretionary payments to those who need extra help (discretionary housing payments) whilst continuously developing your organisational, administrative and communication skills and studying towards a Level 3 qualification in Business Administration.
The council signs up to the Disability Confident scheme (formerly known as the 'Two Ticks' scheme). If you have declared a disability on the application form we can guarantee you an interview if you meet the essential criteria for the job.
Closing date for applications: Sunday 31 March 2019
Interview will be held on Tuesday 9 April 2019
Benefits Apprentice - job description
Benefits Apprentice - person specification
Benefits Apprentice - terms and conditions

Apprenticeship Application Guide [149 kb]

We go beyond expectations - so can you! [2 Mb]
Meet our apprentices
Below are our current apprentices click on the link to listen about their experience with us.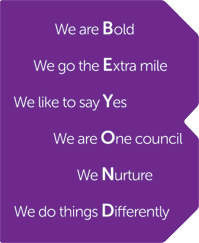 Why become an apprentice at Basingstoke and Deane Borough Council?
A manager's view of apprenticeships at Basingstoke and Deane Borough Council
Apprentice FAQs
Apprenticeships combine practical training in a job with study.

Apprentices work alongside experienced staff, gaining job specific skills and earning a wage. Alongside this apprentices study for a qualification, usually by attending college one day a week or a trainer coming into the workplace.

Apprenticeships are available at different levels depending on what stage of your education you're at.

Intermediate - equivalent to 5 GCSE passes
Advanced - equivalent to 2 A level passes
Higher - can lead to NVQ Level 4 and above, or a foundation degree

Apprenticeships last 1 to 4 years depending on their level.

The government has recently announced that apprenticeships will be available at degree and postgraduate level, meaning there's no limit to how far an apprenticeship could take you.

No, apprenticeships offer a different way to learn. Often the subjects you study are the same, for example IT or engineering, but at university you'll learn through academic methods, whereas on an apprenticeship your learning would be more practical.

Employers will really value the combination of a qualification and work experience you'll gain during your apprenticeship. At the end of the apprenticeship you could choose to look for a job, progress to the next level of apprenticeship, or return to higher education.

There are hundreds of different apprenticeships available; if there's a particular job you'd like to do its likely there's already an apprenticeship for it. A whole range of employers offer apprenticeships, from large employers like the BBC and IBM, to much smaller local businesses.

There's a minimum wage for apprentices, currently this is £3.50 per hour for apprentices in their first year. After this it increases to the minimum wage for your age. However most employers pay considerably more than this. At Basingstoke and Deane Borough Council we currently pay £4.73 an hour (£175.13 a week).

This will depend on the apprenticeship you undertake, however the purpose of the apprenticeship is to make you ready for a real job. You'll have real responsibility and be learning from the experienced staff you'll be working alongside.